Holocaust Torah #764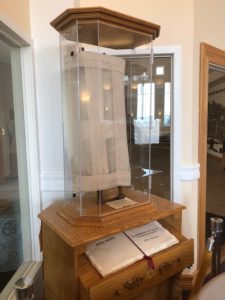 The Horovice Torah is one of just five or six Torahs that was retrieved from the only synagogue in town. It had probably been crafted in one of the major Austrian centers of Jewry in the 17th Century and written on antelope skin parchment sewn together with sinews, with solid oak Etz Chayim.
As the Austro-Hungarian Jewish community acquire more rights, so the Horovice Synagogue became officially consecrated by the authority of the Emperor Franz Josef in 1904. To this day the Jubilee Remembrance Book and the original bronze tablets of the consecration can still be found in the synagogue building (which is now an evangelical church).
In March 1939, the Nazi invasion forced the closure of the synagogue, and the Torahs were stored in Prague by the German authorities. After the war, the Horovice Torahs were among 1,564 salvaged from Czechoslovakia by an English businessman who had them shipped to Westminster Synagogue in London, which makes them available on permanent loan to congregations worldwide.
Horovice Torah #764 Stats
From: Horovice, Bohemia (now Czech Republic)
Acquired by: Edward Lawner on June 19, 1991
Sponsors/Contributors Meeting: November 22, 1992
Dedication after Sofer made Kosher: November 13, 1994
Current Display Case Dedication: September 14, 2001
Marched to RTR upon merger: May 2015 and is on display in the back of our sanctuary.
This Torah is processed on Kol Nidre and read from on Yom HaShoah Commemoration Services.
Many thanks to Barry Josephson (z'l) on his extensive research on Holocaust Torah #764.
Holocaust Torah #1202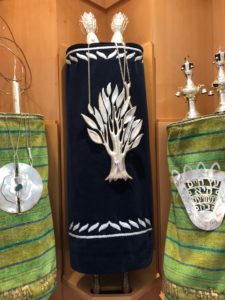 Of the 1,564 Torahs salvaged from Czechoslovakia, 216 lost their tags. These Torahs are referred to as Orphan Scrolls. Holocaust Torah #1202 is an Orphan Scroll. While its original location is unknown, it is know that it is written on calfskin. It is in wonderful condition and is very prayerfully written.
Prepared by a scribe and made Kosher, the last letter of the Torah was restored at the same time the second tower fell on the 10th Anniversary of 9/11 in a moving dedication ceremony on September 11, 2011.
Holocaust Torah #1202 Stats
From: Bohemia and Moravia (now Czech Republic)
Collected by: Charles Winter (z'l) in 1969. Louis Sakoff requested via Leo Bernard in 1968.
Dedicated and made Kosher: September 11, 2011.
Currently the center Torah in the Ark in the Sanctuary.
This Torah is processed on Kol Nidre, danced with on Simchat Torah and read from on Erev Shavuot and Confirmation.