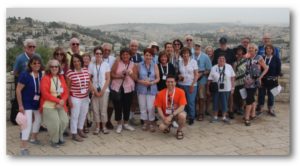 At RTR, Jewish minds do not go to waste. Whether you are contemplating your grandchild's Bar/Bat Mitzvah or can still remember your own; whether you are a teacher already or ever hope to be one; whether you have been studying for years or just for weeks, come! We'll find a place for you at our banquet. We're bound to be serving something you'll like.
We offer a stimulating blend of courses, workshops, classes, and on-going engagements with the study of our Torah, our texts and our culture. Classes are open to all who are hungry for a nosh, a taste, or a feast of Judaism. Don't let your perceived lack of experience stand in your way. Most offerings are for beginners or intermediates. And don't let your expertise keep you from attending; we can all learn something new.
Ongoing Events
Every Thursday – Torah Topics at 10:30 AM (DUE TO COVID-19: NOT CURRENTLY MEETING)
Torah Topics is an informal discussion group. Elements of the Torah are related to today's life through readings and personal narratives. The group freely shares observations and opinions and welcomes drop-ins and regular participants. Coffee, tea, and a small nosh are provided.
Every Saturday – Taste of Torah at 9:00 AM (MEETING ONLINE ONLY)
Join is as we make sense of each week's (English translated) Torah portion and find out what meaning it has in our lives today. Listen to the discussion or put in your two cents and let our commentators put in theirs. Great fun and learning! Facilitated by our Clergy. No need to RSVP. Bagels at 9:00 AM. Study 9:15-10:15 AM.